We aim to spark accurate, diverse and positive portraits of science and scientists within mass media entertainment by:
• Connecting Writers with Researchers in the Lab
• Increasing Diverse Representations of STEM Characters
• Supporting STEM accuracy in entertainment
Who Are We?
---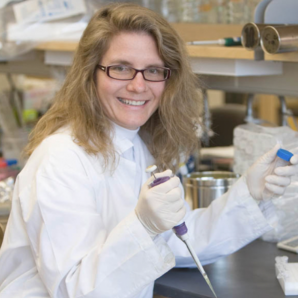 Laura J. Knoll
Program Co-Director, Professor of Medical Microbiology and Immunology
Her Science: Microbiology; Her Art: Dance
Laura Knoll received her BA from St. Olaf College, her Ph.D. from Washington University in St. Louis, then moved to Stanford University for her postdoctoral training, where she entered the fascinating world of parasitology. In 2001, she started her own research lab focused on parasites at the University of Wisconsin-Madison. Laura's lab focuses on the parasite Toxoplasma gondii, which causes congenital infections and is the reason why women are not supposed to change the cat litter when they are pregnant. Her lab recently determined the mechanism behind this cat-specificity and was able to break the species barrier to have sexual development of Toxoplasma to occur in mice. Laura believes that engagement in the arts helps scientists be more creative. Laura performed in musical theater throughout high school and college. She was a member of the St. Olaf Dance Company and danced with Suzanne Grace and Gash/Voigt Dance Theater throughout graduate school.
---
Ginger Ann
Program Co-Director, Illuminating Discovery Hub Director
Her Science: Bioarchaeology; Her Art: Acting
Ginger is a Phi Beta Kappa UW-Madison alumnus trained in Bioarchaeology, Classics and Theatre and Drama – Acting Specialist. Ginger combines the study of arts, humanities, and sciences to build innovative STEAM (Science, Technology, Engineering, Art and Math) programming for the Illuminating Discovery Hub. Since joining the WID team, Ginger has led several exciting science-art fusion initiatives, including: Science to Street Art, Exhibit Discovery and Kohler Fellows @ WID. Ginger attributes her arts mindset to her academic success within the sciences. She believes the creative skills learned through art practice is key to innovative scientific exploration and discovery, and essential to redefining inclusive, culturally competent and diverse science communication and learning.